DIY Yarn Bowl
Have a day off, and what to do a craft? Well, here's a craft that is fun to do, and also useful! To make a yarn bowl you want to get your supplies first.
You will need: Yarn, a bowl (from my experience, I would suggest a larger bowl), sugar, flour, water, saran wrap.
Step 1: Making paper mache.
1. Combine ½ cup of flour and 2 cups of cold water in a bowl
2. Boil 2 cups of water in a sauce pan and add the flour and cold water mixture
3. Bring to a boil again.
4. Remove from heat and add 3 tablespoons of sugar.
5. Let cool, the paste will thicken as it cools.
Step 2: Cover the bowl with saran wrap. (You can also use wax paper as an alternative, but I suggest the saran wrap, it will work better.)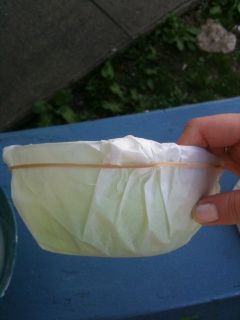 Step 3: Cover the saran wrap with paper mache, then apply the yarn.
Step 4: Let it dry. This may take awhile, mine took almost three days!
Step 5: Carefully remove the yarn and saran wrap from the bowl. Then you're finished, now you have a yarn bowl!
Another suggestion: If you're not into making a yarn bowl, you can use the same idea with a balloon to make a decoration. All you need to do is blow up a balloon, put paper mache on it, wrap yarn around and let dry. When it's dry you can pop the balloon, and then you have a decoration for your porch!