LIVE REVIEW - Yellowcard, Good Charlotte, and Runner Runner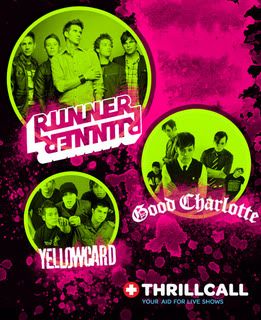 Embarking on a month long tour jam-packed with high energy and incredibly talented acts, the boys in Yellowcard, Good Charlotte, and Runner Runner have proved that this summer tour is one that should not be missed. The tour began in San Diego, CA on Friday and makes its way to Florida with pit stops in several big cities throughout the month of June. Last night, the tour set out at the Fox Theater in Pomona, CA. With a line wrapped around the building nearly two hours before doors were set to open, it was clear that the lineup composed on this tour is one that many do not want to miss. Who can blame them, really? By combining two bands that brought music into the lives of many at an early age with a modern band that creates the perfect balance between the two, attending a show on this tour is guaranteed to be a night you will never forget. Though there are not many stops on the tour, the trek to the nearest location is definitely well worth the overwhelming gas prices and at times stand still traffic.
Setting the stage on fire with their thirty minute set filled with their most popular and energetic pop songs, Runner Runner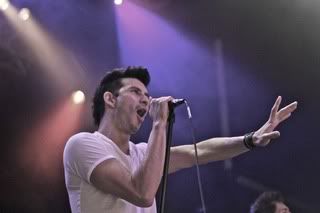 showed a crowd filled with hardcore music lovers exactly what they are capable of, putting on an outrageous rock show. With a set list composed of tracks off their most recently released self-titled album, energy levels were at an all time high for both the crowd and all five talented band members. Lead singerRyan Ogren made his presence very apparent as he glided across the stage singing song after song, eye locking with crowd members as they screamed at the sound of his angelic voice. After rocking out to heavy hitting pop songs such as Unstoppable and Life After You, band members left Ogren on stage alone as he performed the next song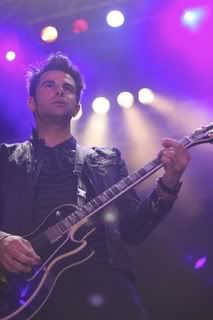 on their set list acoustically. Prior to beginning the performance, he opened up to the crowd with an introduction to the song that touched on his personal life, indicating that twenty-eight days away was his wedding day. I Can't Wait is a song he wrote about his fiancée, which also happens to be the song that she will walk down the aisle to on their wedding day. After an overwhelming "awww" in reaction to this statement, Ogren performed the melodic track solo singing so passionately that one would think the love of his life was standing right there in front of him. With the song nearly over, the rest of the band members chimed in to serve the perfect conclusion to the best part of the performance, along with providing the perfect transition into the concluding track So Obvious. Kicking it up a notch one final time, Runner Runner had fans old and new jumping up and down to the beat of this final song. It was very evident in this moment that they turned an unknowing crowd into a group of Runner Runner fans, even though they were given a set list half as short as that of Yellowcard and Good Charlotte. After an uproar from the crowd as each member of Runner Runner departed the stage, the bar was set at an all time high as both crowd and crew members prepared themselves for the acts to come.
As the lights shut out and the chanting began, it was clear whom a majority of the crowd had arrived to see. Good Charlotte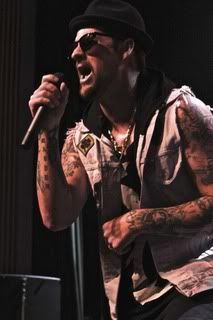 ran on stage, instantly creating an overwhelming cheer throughout the venue, which never faded throughout the duration of their set. Starting out with a bang, the band performed songs everywhere from the ones that raised us in middle school to those that were recently released through Cardiology. The moment the ever so popular introduction to one of their most popular old school tracks Girls and Boys blasted through the speakers, there was not a soul in the crowd that was not dancing and singing along to what was being played in front of them whole heartedly. This is how the set continued, as they played hit tracks such as Like It's Your Birthday,Bloody Valentine, and Sex On The Radio. Both Benji and Joel Madden have an incredible stage presence as they show their indescribable passion for the music that they play. When combined with bassist Paul Thomas, guitarist Billy Martin and drummer Dean Butterworth, it is very evident that this group of five is still a very large force to be reckoned with in the music industry. From their debut full-length album back in 2000 to their recent release of Cardiology, there is an eleven-year gap that is filled with significant events and even more significant music that has changed the lives of a majority of those who give their sound a try. One would think that a band that has been around for as long as Good Charlotte would have lost their stage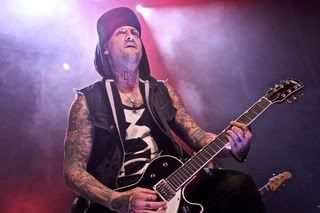 presence by now, but they refute this by leaving their hearts on the stage night after night leaving fans speechless as they take off after a night they will never forget. Good Charlotte concluded their hour long set with a cover of Blink-182's Dammit, immediately followed by the ever so popular Lifestyles of the Rich and the Famous, keeping the energy level at an all time high. At on point, Joel had the crowd going so insane that it felt as though the floor would cave underneath us at any moment. With an uproar louder than I have ever heard before, Good Charlotte exited the stage, leaving their heart and every ounce of energy they once had on the stage. Looking around it was apparent that many fans were simply in awe at what they had just witnessed, along with somehow finding a way to prepare for the next smashing act that would follow shortly.
As the curtains drew open and the crowd uproared in a chant, Yellowcard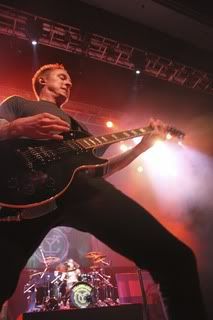 took the stage with pride as they smiled towards the crowd. Beginning with the first single off their latest album When You're Through Thinking, Say Yes, titled For You, And Your Denial, instant harmonies began as the crowd members sang along to every lyric that Ryan Key wrote. Between Key jumping around moving from stage left to stage right between every verse and chorus, and Sean Mackin rocking out with his violin in a true art form, Yellowcard showed the an energetic amount of stage presence to go along with their perfectly put together set. Flowing into tracks such as Way Away andBreathing off their most popular album Ocean Avenue, fans showed their true colors as they sang along to the songs that brought them to falling in love with the music Yellowcard plays. Their hour long set flew by as eyes were locked and smiles were exchanged from fans to both each other and the five men that stood on stage before them. With an emotion of intimacy, it was clear that there was an instant connection between every person who watched as Yellowcard tore the large stage apart at Fox Theater. After playing old favorites, Yellowcard transitioned perfectly into the fresh tracks that won back the hearts of fans after a three-year hiatus. With You Around and Hang You Up were included in this masterpiece of a set list, giving many fans an opportunity to hear these tracks lives for the first time. However, I can almost guarantee you that it will not be the last. Whether they knew about them before or hadn't heard of them since Ocean Avenue, Yellowcard put on a performance that will without a doubt have both parties coming back for more the next time they are in town. Slowing it down for an acoustic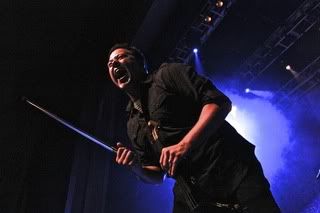 track, Key played Sing For Me with light background melodies from the rest of the group, providing the perfect break as the set came to a too short conclusion. Ending the set with the perfect track, Ocean Avenue, every single person in attendance showed the band that the song that got them to their highest point is still a fan favorite all around. There was not one face in the crowd not singing each lyric, glancing over I found that even the bar tender was singing his heart out. After throwing out every last ounce of energy on this last song, Yellowcard departed the stage and left the crowd at a stand still. Walking out of the venue, most were in shock at how perfectly planned the whole concert was. This is one tour that without a doubt you will not want to miss if it is coming through a city near you!
To view more photos from the event, click here.