THE 2011 GLAMOUR KILLS TOUR - LIVE REVIEW
The Glamour Kills Tour took a different route with a band list that leads more towards the pop genre than the usual pop/punk that is found on the tour. BandsYou, Me, & Everyone We Know, We Are The In Crowd, The Downtown Fiction, Allstar Weekend, and The Ready Set are all featured on this month and a half long tour that is sure to impress you in one way or another. While most people who read the band listing were bummed at the direction GK was taking, those who give the tour a chance will soon find that it is a step that was very successful in every way. The bands are each extremely talented in their own unique way, bringing along a fan base to each show which ultimately leads to transforming them into a fan of the other bands on the tour as well. Haven't seen the tour yet? Check out the tour dates and catch it in a city near you!
When We Are The In Crowd took stage, it was clear that they had a little fan base of their own in the venue to support them. This unique female fronted band started out with more technical difficulties than one could imagine, however they did not seem to faze WATIC as they continued to rock everyone's socks off. Between troubles with lead singer Taylor Jardine's microphone and the struggle vocalist/guitarist Jordan Eckes had with his guitar strings, it appeared as though this would not be a show that would be as hard hitting as WATIC's fans, also known as "crumbs", are used to. However, the five talented members of the band each pulled through and made it a night that fans will remember. Even through the technical difficulties that they faced, WATIC were able to have
fans in awe just three songs into their performance. Playing their most popular tracks such as "Carry Me Home" and "For The Win", WATIC captured the essence of who they are as a band within minutes. Being able to conquer the difficulties that they faced also had all members of the audience in awe as they pulled through to deliver an outstanding performance. In all honesty, I was in shock at how hard they rocked with the circumstances that they were put under. They are one of the stronger and more talented bands on this tour and are well deserving of the recognition that they will gain through each date. Though they may not have been one of the more popular bands on the tour, We Are The In Crowd blew the minds of all who crammed into The Roxy in West Hollywood on Thursday night, proving that they have what it takes to make it far in the music industry. I highly suggest catching them whenever they hit your city next! They put on a show that you will never forget.
Using creativity to its fullest capacity, The Downtown Fiction walked out to a voice over of what sounded like the ringleader of a circus counting down the time until they would begin their set. This immediately captured every member of the audience's attention as they awaited each member to run on stage and begin their performance. Fans cheered as the band made their way on stage, beginning with their track "Best I Never Had" with each member bringing a huge amount of energy to the stage. Lead singer/guitarist Cameron Leahy showed just how much he loved performing with his intense eye locks with fans and his multiple attempts to get closer to each individual member of the crowd by bending in near the faces of those who were singing along with the lyrics. Bassist/vocalist David Pavluk partakes in these activities as well, as does drummer Eric Jones as he is found standing during the high impact pieces of songs in order to really draw the crowd into their performance. About half way through their energetic performance, Leahy brought out a harmonica and after playing frantically for a few seconds introduced the next song that will be featured on their upcoming album (FIND OUT ALBUM INFO) set to be released on April 29th. The chorus of this track sang "thanks for nothing, kiss my ass" in an upbeat melody that had fans singing along within moments. By incorporating a new track into the mix, TDF showed that they can please fans with whatever they do,
especially when they do it as impressive as they do. After slowing it down with an acoustic version of their track "Living Proof", Leahy announced that the final track would be their last for the night. Without much shock, this final track was their most popular track "I Just Wanna Run". The song was played with more energy than ever, until about half way through whenLeahy began moaning into the microphone and removing his clothes. Appropriate for the audience of teenyboppers that were present? Maybe not, but the crowd sure seemed to love it. To replace his fancy attire, Leahy pulled on a #12 LA Lakers jersey to finish the song with. After running off stage for a few seconds, Leahy returned with a Nerf squirt gun filled with ice-cold water to spray at the audience. After being drenched in water, the final chorus was sang in a harmony with all the fans screaming along, the perfect ending to an awesome performance. The Downtown Fiction definitely put on a performance that nobody in the audience will ever forget, especially with the creativity and fun they incorporated throughout the entire set.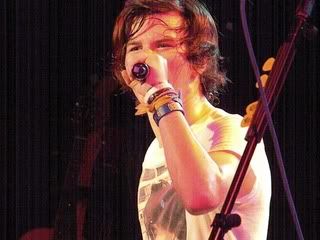 Prior to entering the venue, while asking around in the line to see whom each fan was there to see, a majority of the population was aimed towards Allstar Weekend. This pop quartet is most well known for their feature on Disney Channel's Next Big Thing. They began with their single A Different Side Of Me, which instantly had each teeny-bopper jumping up and down as they screamed along in hopes of getting that one moment of eye contact with said member of the band. Due to the amount of attention that lead singerZachary Porter and bass guitarist Cameron Quisenggave to individual members of the audience throughout their performance, they became an even popular band as their set moved forward. In fact, even the adults whom brought their kids to the show were caught tapping their toes or swaying along to the music that was being heard. Allstar Weekend created a performance that was filled with the most energy of the night, successfully showing that their Disney Channel reputation is not all that they are capable of. The band proceeded to perform a cover of Bowling For Soup's most popular single, 1985. This is the moment that had the older generation of the audience the most energetic because there was finally a song that they could recognize and sing along to. However, it also
created the controversy of "where these kids even alive when this song was written?" whispers amongst the older audience. Avoiding this factor, Allstar Weekend struck the audience with an incredible cover of a song that was a huge hit single back in the early 2000's. After renewing their sound by performing track Come Down With Love, Allstar Weekend made a change in their performance by performing an acoustic version of Journey To The End Of My Life. As they performed this, all four members of the band (plus one "live" member) huddled up center stage to create a very sentimental feel that was very successful throughout the audience. This was a perfect break between their incredibly energetic songs and had those in the crowd swaying along with each beat. Another cover, this time of the chorus in Britney Spears' latest single Hold It Against Me, proved to fans all around that Allstar Weekend is capable of tackling any song that they attempt. With the conclusion of their set including their latest single Not Your Birthday along with their hit Dance Forever, Allstar Weekend put on an unexpected performance that blew the minds of all who stood in the audience.
Last to hit the stage, and another fan favorite, The Ready Set began their performance in a different manner than the previous bands that performed. Frontman Jordan Witzigreuter walked out solo with a drum solo to back him up as he performed More Than Alive under his own spotlights. As the rest of the band began to make their way on stage, the crowd was already singing the lyrics right back at Jordan as he sang his heart out. The pace was brought up with the performance of track Limits, in which Jordan was found making his way throughout the crowd in order to get as many people focused on his performance as possible. With a slight downgrade in the size in crowd that remained, due to the fact that groups of Allstar Weekend fans left the venue early, The Ready Set found themselves pumping up the crowd with as much energy as they had in order to really make their mark. To say that they made their mark would be an understatement because they did much more than this. With the amount that each member of the band attempted to make contact with crowd members as they pumped them up at the same time, the floor of The Roxy was bumping due to the capacity of fans that were jumping up and down along with each song. The Ready Set performed tracks such as Giants and their new song Young
Forever that instantly had the energy level increase, although I never thought it was possible. Jordan made sure that each fan in the audience, whether they were long time fans or those who were hearing The Ready set for the first time, were having the time of their lives as they performed a set that did not seem to be long enough. When the time came for the band to play their most popular single Love Like Woe, the level of energy was at an all time high for both the band members and each person in the audience. Adding on to the already powerful effects, the lights that went on throughout the whole performance were those that the band provided themselves and went along with each song they performed. This captivated the audience in yet another way because as they moved along to the beat of each song, the lights seemed to move along in just the same way. The Ready Set ended with their cover of B.o.B. and Hayley Williams' hit single Airplanes, which was featured on the Punk Goes Pop cover album. After a forty-five minute set, which ultimately felt like fifteen minutes, The Ready Set left the crowd feeling as though they could conquer the world after what they had just witnessed. The Ready Set is definitely a band that puts on a live performance that is sure to transform you into a fan of their music.
*Unfortunately due to venue security, nearly three quarters of those who attended the event were unable to see the performance that was put on by You, Me, & Everyone We Know. However, I have seen them perform live previously and they put on an incredible performance that is none like any other. Be sure to get to the venue early to check out their performance!*