GOOD CHARLOTE'S CARDIOLOGY TOUR - LIVE REVIEW
Good Charlotte has definitely made a name for themselves in their sixteen years of being a band. Since the release of their latest full-length album titledCardiology, the boys hit the stage for a headlining tour to support the release. With support from This Century and San Jose local band The Relay Company, as original opening band Forever the Sickest Kids were unable to make the show, it was obvious from the start that this live show would be an experience that nobody would ever forget. With a headlining band that fans of all ages could thoroughly enjoy paired with opening bands that created an environment that ultimately lead into crowd members becoming fans, the Cardiology Tour was the best combination of live performances that a lot of those in the audience had ever seen. Though the tour is near over, make sure to check out each bands' upcoming tour dates to catch them when they hit your town!
This Century was first to take stage, putting on a mere twenty-five minute performance that absolutely had fans of all ages rocking hard to the pop/punk music they played. Coming out to an overhead sound of a steady bass beat, the members of This Century ran out with a great amount of energy to provide the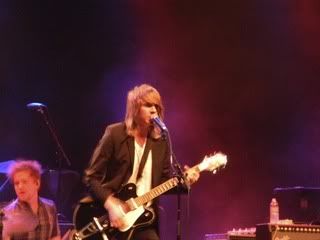 perfect entrance into their set. They began with trackYoung and Useless off of their upcoming debut album titled Sound Of Fire, which drops on April 19th. The fact that this is a track that not many seemed to be familiar with didn't faze the members of This Century as they played with mass amounts of energy. Lead vocalist Joel Kanitz covered every square foot of the stage in order to really captivate the attention of all those present in The Regency Ballroom. Performing title track Sound of Fire off this upcoming album, the crowd really got into the performance as they danced around on the floor in order to let This Century know that they were putting on an awesome performance. With crowd reactions that are commonly heard at concerts including in sync handclaps and group "woah"s to correspond with the lyrics being sung, it was clear that This Century made an impact on all those who watched them perform. After performing the last track of their set, To Love and Back, This Century exited the stage after waving goodbye with their heads held high after a truly incredible performance that had members in awe throughout the duration.
The Relay Company is a pop/rock band from San Jose, California that made a huge impact on those present on the large floor space located in The Regency Ballroom. Though they were not a permanent opener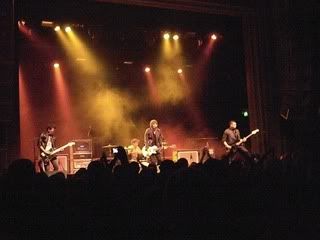 throughout the tour, they opened in Forever The Sickest Kids' place, serving as an extraordinary opportunity that nobody will ever forget. Coming on stage with a heavy drum beat that had crowd members tapping their feet to immediately, each member jumped on stage with energy that foreshadowed their powerful performance. Each track that they performed is available on their latest albumX, which was released in December 2010. Playing tracks Poison, Love Me Hate Me, and Marco Polo, The Relay Company successfully lead the crowd into singing along with their hard-hitting chorus all while gaining their interest to become die hard fans. Halfway through the set, lead vocalist/guitarist Adam Mariucciexperimented with the crowd and their opinion on bands throwing water at the crowd. This ultimately lead to front row crowd members being drenched in water, but they loved it and it lead to more excitement as the band concluded their set. By creating a set that was powerful and inspirational in front of a larger group of people than they are used to, The Relay Company successfully brought in a new set of fans because of their performance. Walking off stage after a classic drum and guitar combination, The Relay Company rocked every moment of their performance, ultimately leading to fan transformations and crowd members enlightened about the performance they had the pleasure of watching.
After a large time break between sets, Good Charlotte finally took stage which instantly lead to fans going absolutely nuts as the lights dimmed and the fog machine was turned on. Running on stage to the introduction track on Cardiology, Good Charlotte immediately brought the energy level right back up to full volume. Starting out their set with an older singleThe Anthem followed immediately by Girls & Boys, fans went absolutely crazy as Good Charlotte hit them hard with tracks that brought back memories that many will never forget. By performing a very mixed balance of tracks off their five released albums, Good Charlotte put on a performance that would have fans of any generation in awe at all that was played. With intense strobe and backup lights that went along with every kick drum that drummer Dean Butterworth played. Using the lights as a pace keeper, fans were right on cue with each and every note that was blasted through the speakers. As the set continued, tracks Silver Screen Romance, Riot Maker, Like It's Her Birthday, and Sex On The Radio, it was clear that Good Charlotte is standing stronger than ever even after nearly ten years of touring around the world. After each song, a slight break was taken and a spotlight was present on Lead Vocalist Joel Madden as the rest of the band prepared for the upcoming song. Kicking it back to their old school songs, while slowing the tempo down a touch, Hold Onwas played next. This is the moment in which the crowd was the loudest they had been all night as they sang each and every word right back to Joel as he sang the words he wrote. Slowing it down even farther, lead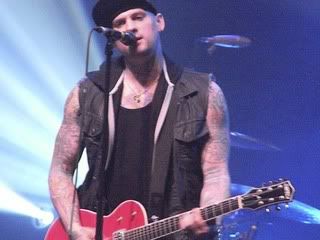 guitarist/vocalist Benji Madden took the center stage spotlight in order to perform a track that is a rare occurrence in the history of Good Charlotte's live performance. With a solo performance of Emotionless, Benji received insane credit as the fans sang right along with him, creating a more sentimental feeling than what is commonly felt during concerts. Benji dedicated the song to a good friend of his who just lost his 3-year-old son, which instantly lead to tears all throughout the crowd. By doing this, an even more emotional turn was taken than what was expected. As the song came to a conclusion, the crowd cheered with more support than I have ever heard a single band member be given. It was a truly meaningful and inspiring act to add to the concert, providing a perfect break in their performance. Picking the pace right back up after a sentimental moment, Good Charlotte kicked the second half of their performance off with Little Things. Members of the crowd could once again be seen jumping up and down with their arms in the air, screaming along with every lyric as though they were their own. Good Charlotte performed tracks Dance Floor Anthem (I Don't Wanna Be In Love), I Just Wanna Live,
Seasons, and The Story Of My Old Man with stage presence that was to die for. Each member of the band was found running from stage right to stage left in order to get out all of their energy before their performance came to an end far too soon. With two songs left on their set list, Good Charlotte surprised fans with what was to come. Playing a Blink-182cover of I Guess This Is Growing Up, which immediately had fans at an all time high as they were able to sing along with each word of one of their favorite songs of the past. Good Charlotte ended their set with one of their greatest hits, Lifestyles Of The Rich And Famous in which a vast majority of those inside the venue sang along to. No matter which song Good Charlotte seemed to play, an echo of voices was heard that almost blocked out the voices of Joel and Benji altogether. With the perfect combination between old and new songs by Good Charlotte, this was the best performance that many in the venue had ever seen. If you have not seen Good Charlotte in concert, I strongly encourage you to do so. Though I believe they will keep rocking for years to come, they put on a strong performance that is none like any you will see in your life. Good Charlotte rocked the world of each and every individual in The Regency Ballroom on Friday night.