LIVE REVIEW - HEY MONDAY FALL TOUR 2010
After taking on the three month long tour with almost unbearable weather and thousands of people that we all love so much, being Warped Tour, Hey Monday headed out on a headlining tour on October 20th with Cartel, The Ready Set, This Century and We Are The In Crowd. This Fall Tour 2010 is jam packed with excellent bands that put on the performance of a life time night after night. Although they share a similar sound, they all manage to put their own twist to the genre, making each band strong in its own way. The tour is now near over, but the performances are stronger than ever. I got an opportunity to attend this show on Friday and my mind was blown. If you live in Texas or Florida, I highly recommend seeing this show!
Even with lead singer Tay Jardine ill with bronchitis, We Are The In Crowd were able to warm up the crowd with a set jam packed with good vibes. A day full of stress trying to get her voice back, Tay was able to really shock the crowd by giving a performance like any other by them. Her voice sounded tremendous and paired well with the music put behind it, which was the pop rock that We Are The In Crowd fans are very used to. Pumping up the crowd by bouncing around, the entire band put on a powerful performance for what they had to work with. In fact, if they hadn't announced it on stage I bet not many people would have been aware of Tay's illness at all. Looking left to right around the venue most, if not all, hands were up in the air waving around and clapping to the beat. Feet bouncing up and down, the crowd was getting just as sweaty as the band itself. We Are The In Crowd proved how strong of a band they are by putting on the strongest performance I have ever seen by them. Playing like any ordinary show put on by this pop band, those in the theatre who had not heard of We Are The In Crowd felt great love for them the second they exited the stage. Being the first band to go on stage, We Are The In Crowd put on an unforgettable performance that really had the crowd on their toes in anticipation of what would come next.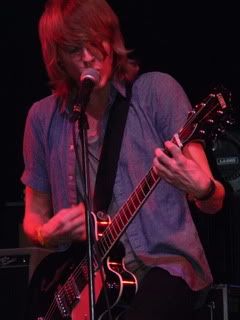 Stepping on stage, trying to pump the crowd up even more, This Century put everything out there for the crowd to soak up. With incredible stage presence and good vibes, This Century did just that. Lead singer Joel Kanitz took advantage of the stage length by jumping around and interacting with the crowd, which is an amazing asset for a band to have. Within minutes El Ray Theater was filled with singing fans, captivated by the performance that was being put on right in front of their eyes. Originally from Arizona, this 5 piece band did exactly what they had intended to do prior to stepping foot on stage. With an incredible "wow" factor to the performance, crowd members were able to truly feel the music. With great messages in the lyrics, powerful vocals and insane instruments to pull everything together, crowd members all around me became glued to the performance wishing they had heard of them previously. Asking around after their set, I found that there was not a large number of people who truly knew every song that This Century performed. However, being mesmerized by the music, each person could be seen singing along like they had been fans for years. This Century put on a busy and high energy performance that had new and old fans alike singing along and dancing around on their feet.
Running onto stage with more energy than a four-year-old, The Ready Set took the stage full force, foreshadowing their incredible performance. Lead singer Jordan Witzigreuter grabbed his microphone and sang his heart out, soothing the crowd with his strong voice. With lights that flashed to the beat of each song, the crowd couldn't help but jump up and down to the music that was blasted through the speakers. Guitarist Keegan Weckler and bassist Andy Snyder had in sync guitar swings and head rocks to really get the crowd into each song, leading them in hand clapping and arm waving as well. Drummer Travis Rountree was just as in tuned to the performance as everyone else, singing along with Jordan and getting the crowd even more excited. After performing a few songs to test out the crowds energy, Jordan lead the crowd into group chants of "woe", hinting at the song that was to come. Hitting radio stations all over the US, "Love Like Woe" was definitely the song that had the crowd going crazy. Not one person in the venue could be seen simply standing in their spot; everyone was instantly filled with energy, bouncing up and down with the beats while singing as loud as possible. Ending the song with Jordan holding onto as many fans hands as possible, The Ready Set exited the stage with just as much energy as when they entered on. With an incredible set and a strong ending, The Ready Set won the crowd over with their rocking energy and pop beats, an excellent opening to the two bands to come.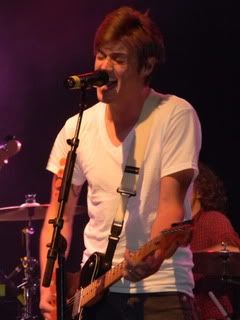 Hitting the stage to the sound of police sirens, Cartel showed the crowd just how much power they had. With three guitarists and one bass, Cartel proved that they were not joking around when it came to the performance that hundreds of fans were about to witness. Four out of the five members of the band also possessed microphones, proving the point that they came to bring their all and that is just what they did. Providing incredible feelings with each beat of the music, fans all over the theatre couldn't help but stare in awe while singing along to the music everyone seemed to love. I don't blame them, Cartel put on an incredible performance packed with strong instrumentals and catchy chorus' that had the crowd tuned in during their whole set. Rather than having a song or two in particular that everyone in the crowd seemed to know, Cartel had people singing each word to every song they played. Jamming out just as hard as the crowd was, Cartel had the crowd at their fingertips with each note. Putting on a great performance would be an understatement, because Cartel put on a performance that is like no other. Leaving the stage after a flawless performance filled with high energy and strong music, Cartel left the standards high for the final band that was to come.
Taking the stage after the curtains opened, male members of Hey Monday Mike Gentile, Alex Lipshaw, Pat McKenzie, and Chris Gentile started out the set with an instrumental piece while playing huddled together before lead singer Cassadee Pope took the stage. Strutting her stuff in bright turquoise leggings, Cassadee showed the crowd from the start that she was ready to party. Starting off with a few songs off their newest EP "Beneath It All", Hey Monday did an excellent job of opening up with more sing-along songs than they are used to. Dancing around with arms flailing around in the air, fans all around the venue couldn't believe just how well Hey Monday was performing in front of them. Continuing on the trend in partner head bangs and guitar swings, Alex and Mike put on a performance that is none like any I have ever seen by them before. So much energy was thrown
into the crowd by each member of the band that one couldn't help but be happier than ever watching how happy all five band members looked as they played their hearts out. Even replacement Chris Gentile, who joined in on this tour after the departure of old bassist Michael "Jersey" Moriarty soon after Warped Tour was over, could be seen giving an incredible stage presence making it seem as though he had been in the band just as long as any other performer. As difficult as it was for fans to accept the fact that Jersey would not be playing on this tour, it was easily accepted as soon as they saw just what Chris had in store for them. After a few fast paced and poppy songs, Cassadee broke out her acoustic guitar in order to play tracks such as "Hangover". With the acoustic side of the performance over, Cassadee made an announcement that they would be playing one more song before exiting the stage and we were welcomed to invite them to play an encore of two to three songs, depending on how loud we were. As the song came to an end, Hey Monday said their "goodbyes" and exited the stage. Immediately following this, an uproar came from the crowd cheering "encore" so loud that it echoed throughout the venue. After a minute or two, the band came back on stage more energetic than ever, ready to play their hearts out on the last three songs. In a special rendition of the song "Candles" found on their full-length album "Hold On Tight",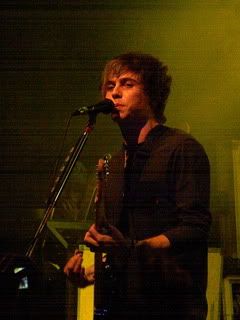 Cassadee, Mike, and Alex came out to play it acoustically. This created a very intimate feeling and really got the crowd on their toes curious as to what was to come next from the energy packed performance. When the song was over, Cassadee whipped out her violin and performed a melody of notes that were none like I have ever heard before. She is an excellent violin player! Next, Hey Monday performed an acoustic cover of "In My Head" by Jason Derulo, Hey Monday had the crowd once again jumping up and down singing along. Not only did they have an outstanding cover of the song, but they also had their energy level at an all time high, making sure that each member of the crowd was having the time of his/her life. After one final song off the album "Hold On Tight", the curtains closed once again and the crowd was left speechless after an incredible performance by Hey Monday. Giving the audience an opportunity to break free from their surroundings and completely let loose, Hey Monday put on the best performance of their lives on Friday night in Los Angeles. It was a show that I know every audience member will truly never forget.
Click here to view more photos from the concert!