LIVE REVIEW: 'OMG TOUR'
Selling out arenas that hold thousands of people worldwide, Usher, accompanied by hot artist Trey Songz and upcoming artist Miguel, have begun the month long journey that they call the OMG Tour. Whether it be teeny boppers who love his new singles or long time fans who have been listening to him since the early 2000's, women and men all around the country are traveling to the nearest location in order to see this outrageous concert packed with as much talent as possible. The tour started out in Seattle, WA and hit Las Vegas on the third day of the tour, and I was lucky enough to be one of the life long fans present.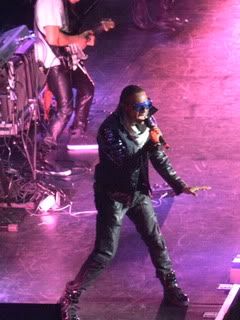 Starting the show off by opening with a robot-like introduction,Miguel eased each audience member in the large events center into a huge smile. Using his soothing but powerful voice to awe a crowd full of Usher fans, Miguel was very capable of creating a memory in each persons mind of who he is and what his music is like. Opening up for such a worldwide known artist as Usher, Miguel really had a great opportunity to begin building a strong base of very loyal fans. Through his powerful performance, he did just this. Using unique dance moves to really shock the crowd, Miguel had women left and right standing up and screaming for him in hopes to grasp his attention for just one second. With such a strong stage presence, it would be nearly impossible for one to sit down or not want to sing along the second Miguel hit the stage. Using his powerful and mesmerizing voice in combination with his insane stage presence, Miguel exits the stage, after a performance that seems all too short, leaving crowd members shocked at what this little known artist brought to the stage. He is surely an artist to look for in the future, especially after putting on such an incredible opening performance for two very well known artists. His new album is released on November 30th and I recommend you pick it up when you get the chance.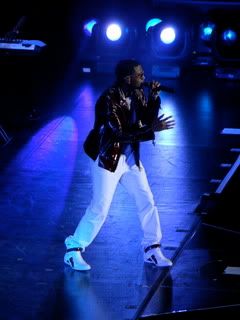 With a very sexual video to introduce his performance, Trey Songz gets the crowd shrieking and out of their chairs the second he hit the stage. Minutes into his performance it was clear exactly what this foreshadow entailed, because his performance was nothing short of powerful but also incredibly sexual; however I don't believe anybody was complaining. Using his jaw dropping voice and gorgeous charm, Trey Songz had women all around the arena on their toes screaming at the top of their lungs for him. Throwing in cover songs in between every couple of his own songs, Trey really kept the crowd at the edge of their seats (that is, those few who were still sitting down). When single "Bottoms Up" started playing, there was not one individual seated in their chair or not enjoying the performance. The intensity of the stage lighting also added to these factors; adding to the rhythm and bringing in a whole new aspect to his stage presence, which was already totally over the top. Using seductive dance moves and plenty of sexual innuendos, paired with one of the most powerful male voices I have ever heard, Trey Songz proved he is a force to be reckoned with, along with serving as the perfect opener for Usher on this tour.
By the time it was Usher's turn to hit the stage, the crowd was already riled up in the anticipation that came following the jaw dropping opening artists. Opening his performance with laser lights and a silhouette of his dancers previewing the unthinkable dance ability that would be seen throughout the concert, Usher had women of all ages standing on their chairs instantly. Coming out with a bang, literally, Usher hit the stage accompanied by multiple firework explosions to ensure that nobody in the crowd had seen a performance quite like the one they were about to witness. However, the way he stepped on stage was just as interesting as the fireworks shooting off. Starting at the south end of the arena, Usher was levitated on a platform on his journey north to the stage. Once he got there, dance moves were further enforced when he flipped and jumped around off the new slanted piece of stage, leaving crowd members in awe at the talent he holds so strongly. After beginning with newer hits that appeared to be more known throughout the crowd, Usher took a turn for the better by playing older classics such as "Yeah!" and "My Boo"; this was personally my favorite part of the show. The long time fans that were dispersed throughout the crowd really showed their true colors starting with the first note that hinted at old tunes. Making an entrance back onto the platform and out into the crowd again, Usher performed hit single "Burn" in a more intimate feeling performance that made the crowd go wild. Following this song, Usher did something that was not expected from anyone in the arena, and to be honest I still can't believe it happened. Usher picked one lucky lady out from the crowd, brought her up on stage and sang a hit to her, all while dancing sexually with her. When the sexual performance was over, leaving women around more jealous than they had ever been, he proceeded to make out with her ferociously before exiting the stage. To be completely honest, this is not something that I would have expected from a top performer like Usher; especially because there were so many younger girls in the audience. He could have just as well danced during the songs using the moves that so many women worldwide drool over, rather than
making it feel as though a porno was being performed on stage for all to watch. Once the mayhem was over, everyone in the crowd was dying inside, hoping that he would make it up to them with the conclusion of his performance and he did just this. Shooting out from behind the stage with fireworks paired, Usher had the second half of his performance right back on track to where it left off. Pulling out all new dance moves when one would think it could not get any better, Usher really wowed the crowd and made up for the act he had done previously. By the time the show was over, it was as if it never happened; simply a memory for that one lucky girl. After the original set was over, Usher came back on stage after the crowd roared for an encore by singing "oh oh oh oh" from his current hot single, "OMG" to perform just this. Fireworks and confetti galore ended the show, along with an extraordinary amount of thanks and praise coming from Usher and a group bow with all of his dancers. Usher put on a show that was truly one for the record books and one that I will never forget. If there's one thing I learned on Saturday night, it is that Usher sure knows how to put on one hell of a show in order to really shock a crowd of life long followers in his musical endeavors. The tour has only had a couple of dates, so if it is in your town at all I highly recommend you see it in order to get the experience of a life time.