Live Review: "We're Back" The Battleship Agenda Comeback Show
From disaster to triumph Denver bred band The Battleship Agenda is a force to be reckoned with. After forming in 2009 with five former musicians from different bands TBA was the band to watch out for, but in early 2010 disaster struck when singer, Kat Barnes, left. With a fill-in singer TBA played a few more shows and ultimately decided to take a break to find a new singer. While taking a break, bassist Kellen Niemeier chose to part ways. One month before playing the Ernie Ball Stage at Van's Warped Tour 2010 TBA welcomed new vocal addition and bass player Casey Ottmann into their family. With Casey's arrival TBA started to transition into a new image and sound. Unfortunately, a few weeks before Warped Tour guitarist Tyler Call announced his departure with the band leaving original members Nick Ferro (Vocals/Guitar) and Chris Brinson (Drums), with new addition Casey Ottmann. Putting the broken pieces back together has been a very bumpy road for The Battleship Agenda, but after finding new guitarist Keoni Akina TBA is now whole again. With their first new song release "Houses" in October and a Halloween comeback show The Battleship Agenda is back and ready to take over Denver's local music scene.
Opening Saturday's Halloween show at The Marquis Theater in Denver,CO were well known Denver locals and dance-rock quartet The Photo Atlas. The lights dimmed and all four members glided on stage with a very unique costume choice. Each member came out dressed as a form of Justin Bieber. When asked, whose idea was it to dress as Justin Beiber, singer and guitar player Alan Andrews answered saying, "I think we just wanted to make fun of pop culture and we tried to pick the most popular thing going… I think Bill (guitar) came up with the idea while we were on tour…" Playing their popular song "Handshake Heart Attack" from their 2007 full length album"No, Not Me, Never" The Photo Atlas filled the room with dancing energy to the point where there wasn't one person who wasn't jumping. As their set wrapped up Alan Andrews (singer) jumped off stage and into the crowd giving hi-fives to as many fans as possible. Dancing on all parts of the stage and interacting with fans The Photo Atlas set the bar high for the rest of the bands appearing that night.
My Body Sings Electric, another local Denver band, were up next. This being a Halloween show each member came out with neon paint splattered all over each other. As the band started the lights turned off, the black lights came on, and the crowd stood there in awe as each member started to glow. With remarkable lighting and stage presence the crowd stayed drawn in throughout their whole set. Playing numerous Indie/Post-Hardcore/Experimental/Lounge-Core songs this five member band started to fill the room with fist pumping energy. My Body Sings Electric started and ended their set with as much upbeat attitude as possible and definitely reeled in some new fans.
Regret Night, is a five member power pop/rock/alternative band hailing from Denver, CO. Recently releasing their new EP "Living the Night Life" (2010) and featured in Alternative Press Magazine under "Unsigned Bands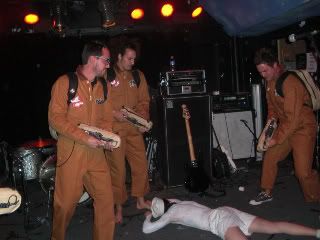 of the Month" (November issue), Regret Night broke the bar set by My Body Sings Electric when they came out to the theme song from "Ghostbusters" (1984) as The Ghostbusters. Capturing sheet ghosts and of course drummer Nick "DM" Kemberling, who was dressed up as the stay puft marshmallow man, Regret Night started their performance with a comedic skit that drew in crowd. Playing crowd favorites like new songs "Lost My Head" and "Hailey Hey" along with an old classic "Wake Up Call" (where band friend, dressed up as Alan from "The Hangover", sang back-up) these boys definitely kept the energy up with long-time and new fans throughout the venue. Ending the set with their costumes half way off and with their traditional "air-humping instruments" move Regret Night pulled off yet another remarkable performance.
The moment everyone in the venue was there for had finally arrived. Coming out to a pre-recorded voice track The Battleship Agenda took the stage dressed as characters from 1991 film "Hook". When asking vocalist and guitarist Casey Ottmann who came up with their costume idea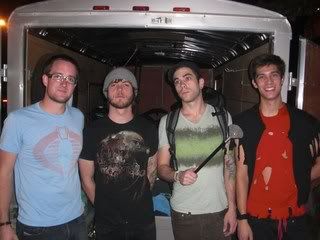 he responded with, "Well the idea came from our guitarist Keoni wanting to be Rufio for halloween for many years and never actually doing it. So this year we decided that he was going to be Rufio and then we would dress around him. Our drummer (Chris) was Tinkerbell because he knew he could look ridiculous in wings and a wig and still play well so he chose to dress as her. Our guitarist/vocalist Nick was Hook because he loves pirates, and I (Casey) dressed as Peter Pan because I love Peter Pan and since I'm the primary vocalist it made sense that I be the lead character. But the whole idea definitely came from Keoni." Since the crowds expectations were set very high, TBA knew that they needed to make this show as memorable as possible. With Casey and Nick both contributing vocals to old songs (formally sung by a female vocalist) and new song like "Houses" (2010) their performance was blown out of the water and exceeded all expectations. With incredible lighting, a dynamic set list, and an energetic stage presence TBA came back with a "we're back" attitude. Not only was their comeback show a success, but I'm pretty sure long-time fans like myself were impressed and new fans had emerged. At the end of the night I had a chance to ask Casey if the show met/exceeded their expectations, he answered "The show met our expectations, and as long as the audience loved it, and we performed our best, that's all that matters." Overall, The Battleship Agenda Comeback/Halloween Show was a huge success and I know that I'll definitely be attending more of their shows.