LIVE REVIEW: The Harmony Tour
After releasing their second new album this year on August 24th, Never Shout Never kicked off their first headlining tour last week in Seattle, Washington. The month long tour, called the Harmony Tour, is opened up with artists Carter Hulsey, I Can Make A Mess Like Nobody's Business and The Maine. This weekend, I attended shows in San Francisco and Anaheim, California in order to see what all the talk regarding nineteen-year-old front man, Christofer Drew, is all about.
Starting the show off thirty minutes after doors opened, Carter Hulsey glides on stage, filling the venue with a positive stage presence. Playing hits such asBlack and Blue and Dreaming of Heaven off of his new record "A Note In Your Pocket" (2010), audience members left and right couldn't help but fall in love with the messages he spread. Bringing a folky/country sound to the tour, Carter does his best to give the crowd what they want to hear while staying true to his sound, in order to be sure each person is having a good experience. Does he do this? Yes, he does. Looking around the venue, I witnessed many teenagers become fans of his music in the twenty-five minutes that he sang his heart out on stage for. Trying to make it big while coming from a small town, Carter Hulsey sets the stage on fire with his passionate messages and ability to grasp the attention of his audience, to convert music loving teenagers into die hard fans for the music he inspires them with.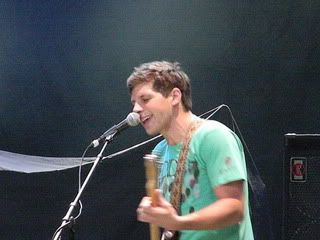 I Can Make A Mess Like Nobody's Business is a two-man band side project, lead by Arthur "Ace" Enders, lead singer for The Early November. Taking the stage with giddy dance moves, Ace opened with My Hands Hurt off of his latest album "The World We Know" (2010). Without a large amount of the crowd singing along, Ace took control and offered instructions in order to get the audience to chime in during the chorus of Old Man.… Before I knew it, the entire venue was singing lyrics "it's the world we lost" at the top of their lungs, giving Ace a sign that they enjoyed his performance. After hearing this and feeling the warmth that was produced off of the positive vibes, Ace finished his time on stage by hitting powerful notes, rewarded by an uproar from his new favorite crowd. Upon finishing the set and exiting stage, fan girls all throughout the venue were going crazy for this cute boy, craving for one last glance from Ace.
Based out of Phoenix, Arizona, The Maine is one of the better-known bands to play on this tour. With two successful full length albums under their belt, The Maine has spent the last three years building their fan base by touring around the world. Lead singer John O'Callaghan, as well as the rest of the five-piece band, has a stage presence unlike many others that I have seen. Playing most of their set with songs off of their latest album "Black and White" (2010), such as Listen To Your Heart and Growing Up, The Maine does an incredible job of not only putting on a good show, but also making sure that the crowd is involved. Whether it be dancing or singing parts of the chorus, John was constantly making sure that every face in the audience was filled with a smile. The upbeat music made it impossible to do the opposite of what he wished and with the instant connection that each member of the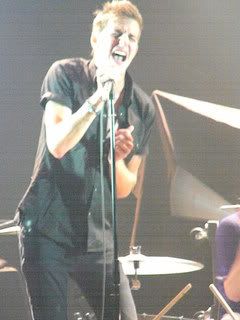 band made with the crowd, teenagers and adults throughout the venue were soon hooked on the music that was surrounding them. Halfway through the set, an acoustic guitar was brought out and the band slowed it down for a couple of older, but greatly loved, songs. One of these was Into Your Arms off the album "Can't Stop Won't Stop" (2008), which instantly brought tears to the eyes of many, along with creating an even stronger energy throughout the venue. The Maine put on a performance that was not only amazing to the crowd, but it was apparent that the band was enjoying what they were doing equally as much. By creating such a positive energy and bringing out everything they had on stage, The Maine put on one of the most memorable performances I have ever seen. I recommend seeing them live for anyone who enjoys concerts and high energy music.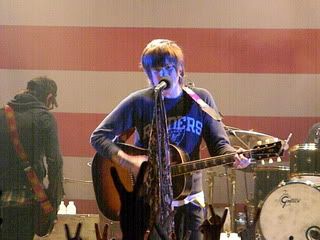 Nineteen-year-old musician Christofer Drew walked on stage with a spotlight following him, performing 'Harmony' acoustically in order to open up his act. His band, also known as The Shout, followed to play thirteen other songs with him from albums "Harmony" (2010) and "What Is Love?" (2010), in a spiritual performance that creates an escape from reality. Playing a combination of old and new songs created a positive reaction filled with shrieks and smiles from the crowd; it was as if they were hoping that he played each and every song on the set list before the show started. With a cigarette in hand, Christofer and The Shout played Trouble, which is an older song that he brought back with a reggae twist to it. Rather than the usual pop-rock style that it has,Trouble was filled with cool beats and new instruments that really made the song take a turn for the better. Following this, they played songs such as Sweet Perfection and On The Brightside which each sent a different feeling through the members of the audience. When the original set was over and fans began to disperse out the back exit of the venue, Never Shout Never came back on stage full force to play an encore of the song The Past in order to end the concert on a strong note that sends a different message for each person it is interpreted by.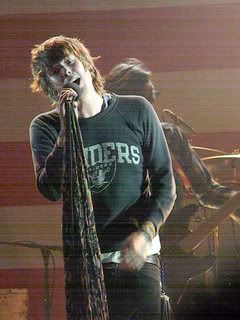 Beyond the performance, the messages that are written in between the lines of each song that Christofer writes are uniquely inspiring, which is why once people hear him for the first time they are hooked. Spreading peace and love with strong music, Never Shout Never had the audience dancing and singing along with little effort. Joining in on the dancing and jumping around, Christofer responded to the crowd with an awesome feeling of love and harmony that can't be felt by many other performers, especially at such a young age. Both Christofer and The Shout play and sing with passion that can be read clearly on their faces, as if they are telling a story with each note they play. All types of instruments, from harmonicas to ukuleles, are played during each song so there is never a dull moment. Each song live has its own little twist to it that doesn't exist when listening to a CD, creating an even more special feeling for each attendee as they watch in amazement. Because all of these feelings are created within thirteen songs, a sixty-minute set flies by in an instant, and fans are left to step back from the stage and breathe everything in before returning back to the reality of life. Never Shout Never truly puts on one of the best performances I have ever seen, and I highly suggest each and every one of you attends one of their shows in the future.
Click here for tour dates and more information to see if the tour will be at a city near you. Trust me, this is one tour you don't want to miss!