Interview With The After Party
Straight from Manhattan, KS, The After Party is a pop band jam packed with talent and fun. This four piece band is comprised of the usual vocalist, guitarist, bassist, and drummer; but create a unique feel with the way that they pull these four pieces together. When listening to their music, one can't help but be instantly filled with smiles and enjoyment with the party style that they possess. The After Party recently released two new singles on iTunes which are availablehere and I highly suggest you do your ears a favor and take a listen! I got the opportunity to interview them regarding the future and letting new fans know what they are all about, take a look below and check out this rad band for yourself!
Where did you guys come up with the name for your band? Is there a particular event that led to the name?
We wanted a name that was short and catchy, and would be impossible to forget no matter how hard you tried! There wasn't a specific event that led to the name, but we thought it was a fun name that represented our personalities and our image.
Who do you look to as inspiration when writing, recording, and playing your music?
When writing and recording, we draw inspiration from all the bands we grew up listening to and the top pop artists of today. We try to mix our pop rock roots with Top 40 hooks and melodies. When playing live, we feed off the energy that our fans give us, and we really strive to put on the best performance we possibly can. We really appreciate our fans, and we want to make every single show memorable for them.
Being based in the state of Kansas, how has the music scene there helped you get your music out?
There are definitely positives and negatives to being based out of Kansas. Unfortunately, the scene is pretty small in our area, and there aren't many other young local bands or big tours that come through. The upside to this is that a lot of people know us as one of the few local bands who are starting to gain national attention, and we have a lot of hometown support.
How have you transformed as a band since you started out?
We originally started off as a straight pop rock band, writing cute songs about girls. Over the last year we have really matured as writers and performers, and have transformed into writing radio pop songs (still mostly about girls haha). Not only has our music style changed quite a bit, we have also improved as performers. Spending months on tour really has helped us become a lot tighter as a band.
What would you like to accomplish as a band over the course of this year?
Over the course of this year, our main goal is to continue to tour and get out to new cities and states that we have never played in before. We have fans spread out all around the nation, and we would love to play for every single one of them!
You recently released two new singles, how has the feedback on them been?
Overall, the feedback on our two new singles has been really positive! Our style has changed quite a bit, so some fans are still getting used to the new us, but for the most part our fans are really excited to hear more. People have criticized us for sounding like a boy band, but in all honesty that is what we are going for!
You are currently in the process of recording an EP, what can fans expect on this next one?
Expect a whole lot of amazingness! We are going to keep the catchy hooks coming, so get ready to have our songs stuck in your head! We are really excited about the upcoming EP, and we hope our fans are too.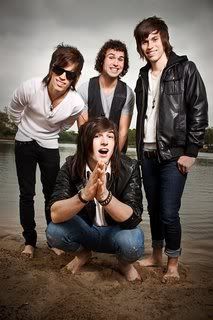 You also put out a music video for "Come on, Come on", what was it like to record? Where did you get the idea behind the concept?
That was the first time we recorded a music video, so it was a really exciting experience and we learned a lot from it. The concept for the video was mostly based around the lyrics of the song, which is about sneaking out with your girlfriend (or boyfriend) and living for the moment. Albert Gonzalez (the guy who filmed the video) and Jenna Wade (the main actress in the video) also helped develop the storyline for the video.
Any upcoming shows or tours that are in the works?
We actually have a very rigorous touring schedule in the works right now. We have three back to back tours lined up for the spring, and have plans to stay on the road through the entire summer and into the fall. Keep an eye on our social networks, we'll begin announcing dates soon!
Where would you like to see yourselves as a band in 5 years?
We have some pretty big goals for ourselves as a band, we're not going to settle for being just another band in the scene. In 5 years we see ourselves breaking out into mainstream pop radio and becoming one of the most successful bands in our genre. We'd like to see ourselves following in the footsteps of bands such as Fall Out Boy and Boys Like Girls.
Is there anything else you would like fans and viewers to know?
First off, Brandon is single and looking for love.... ladies? We're really excited to release our new music that we've been working on for the last few months, we can't wait to get feedback from all of our amazing fans! We also cant wait to get back out on the road again and see some familiar faces and hopefully a lot of new faces! When we come to your town, make sure you come to the show, we can promise you an amazing time!