Interview With The Bigger Lights
Trucking from Vienna, Virginia, The Bigger Lights is a five piece male band with their minds set on bringing the rock and roll feelings that were common in the 1980's back to the music industry today. These sounds are exactly what one experiences when slipping in one of their CDs into a car stereo, making this band a force to be reckoned with. Vocalist Christopher "Topher" Talley, guitarists John Kendall "JK" Royston and Chris McPeters, bassist Dan Mineart, and drummer Ryan Seaman bring their own unique sounds together to create a type of music that is less common nowadays in the music scene. Since putting out their first EP under their Doghouse Records label titled "Fiction Fever" in 2009, The Bigger Lights have made quite a name for themselves. Joining bands such as There For Tomorrow, Cartel, This Providence, Anarbor, and Hey Monday in tours that ran across the United States, The Bigger Lights have created an army of a fan base that is located in all parts of the world. After putting out their first self-titled full length record last year, The Bigger Lights have continued to keep themselves busy through touring, setting out on their first headlining tour called "The Caffeine and Skinny Jeans Tour" that ran for a few weeks in August throughout the east coast. The band is currently in the process of writing and recording a new album, and I got the opportunity to interview guitarist JK Royston regarding what can be expected in the future with this rock and roll band.
Where did you come up with your band name?
JK: The Bigger Lights is a reference from Shakespeare's play "The Tempest." It's a symbolism for the great unknown.
When did you know you wanted to be in a band? Do you have any relatives in the industry?
JK: The first time I saw Stone Temple Pilots live when I was thirteen years old, I made the decision to be in a great band at all costs and never looked back. Dean DeLeo made playing the guitar look like the coolest thing in the world. I don't have any relatives in the industry. I had to figure it out for myself.
How has your local music scene in Richmond VA helped you spread your music throughout the world?
JK: I'd actually consider Northern Virginia to be our home market more so than Richmond. We were lucky in that when we first started, the local music scene in Northern Virginia was blowing up. There was a lot of industry attention already on a couple of the more established bands in our scene, so we were able to grow quickly by building strong relationships with the kids going to shows and the bands that were drawing them until we were able to successfully anchor our own shows. Things just naturally grew from them.
How has your music evolved since you first started playing music as a band?
JK: I think that in a lot of ways, we've come full circle over the past few years. When we started this band, we wrote what we wanted to hear without any regard to what anyone else was doing and I think that people really appreciated that. When we signed, we started to feel pressure from a lot of different directions and our process changed. I'm proud of the EP and LP we've released since signing to Doghouse for what they are, but part of me feels like we strayed from our path by trying to appeal to the pop market at the expense of some of our natural quirk. I'm really proud to say that the music we're writing for our next record is the gutsiest, most honest, and most challenging music we've ever written. I think we're back on the right track.
Where would you like to see yourself by the end of the year?
JK: Most importantly, we'd like to have our next album out. At this point, everything else is hinging on that.
You played a few dates on Warped Tour last year. What was that like?
JK: We were only with the tour for a couple days but it's a pretty exhausting experience. It's hard to imagine what it's like for the bands that do the entire thing in vans or campers without much crew help. I have a lot of respect for them. On the whole, the experience was great. We got to play for a lot of our existing fans, make a lot of new fans, and hang with a bunch of friends from other tours for a few days.
What is your favorite part about the touring aspect of the music industry? Least favorite?
JK: The best part will always be getting to share our collective musical experience with the world every night. Just about every other aspect of touring seems to be challenging.
What are your favorite venues to play at? Least favorite?
JK: I love playing the Highline Ballroom in New York City. It's a beautiful room and it sounds amazing. Every band plays a lot of dives, so it'd be hard to really single out a least favorite venue. Throughout our career, we've had the privilege of playing in boxing rings, at venues without sound systems, and even in an actual public library. Every day is an adventure.
What is your favorite thing a fan has done for you?
JK: It's really simple for us. The most appreciated things fans can do for us are buy our music, come to see the band live, and help spread the art if they believe in what we're doing.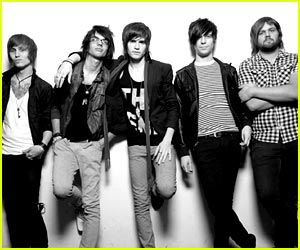 What have been your top five favorite shows to play thus far in your career?
JK: We've been lucky to play so many amazing shows that it'd be hard to narrow it down to five but a few performances that stand out as benchmark moments are the first time we sold out our home stage in Vienna VA, the first time we got to perform to a sold out crowd at Highline in New York City, and playing to over a thousand people in Seattle WA, which is just about as far away from our home as you can get in the continental United States.
Do you have any pre-show rituals?
JK: We're fairly superstitious about pre-show rituals. Every time we've ever consciously done anything before a show, the show has gone poorly. Topher usually spends a good bit of time warming up. I tune a load of guitars. Otherwise, we just try to focus on playing a good show and savoring the experience of playing music together.

If you could tour with any band, who would it be?
JK: The list is endless. Collectively, we're pretty obsessed with Queen, so I think they'd be at the top of our list.
You're in the process of recording a new album. What can fans expect with this one?
JK: We're getting a lot gutsier with our song writing. Instead of focusing on writing the most pop sensible music we can, we're allowing ourselves the freedom to explore and let our natural quirkiness come through a lot more. I think even at our weirdest, we'll always be a pop influenced band, but it's refreshing to break down the walls and stand in a complete open creative space and feel like anything is possible again. On the whole, I think it's safe to say that the next record is going to gravitate a whole lot more towards the rock side of our sound than the pop side.

Where did you get your inspiration for this next album?
JK: We're still in the process of writing and defining the sonic concepts for the next album, but the general theme is a lot different than anything we've ever done. There seems to be a pretty steady focus on the challenge of conquering your personal demons to figure out who you really are. We've grown a lot as musicians and people since our last record and we're excited about how that growth is affecting our band and the music we're making together.
The Bigger Lights released an official video for their song titled "So Crazy" off their self-titled full length. The video gives fans a look into what they are like on their live performance. Take a look at the video below!