2010 FASHION RECAP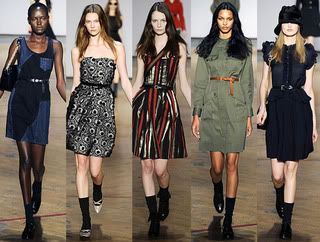 As a close comes to the year of 2010, a new decade, bringing a fresh start for trends in the world of fashion. The past year has been jam packed with inspiring fashion trends from brilliant designers such as Marc Jacobs and Vera Wang, who have both impacted the fashion industry tremendously. From casual, unisex styles such as cardigans and combat boots to more formal styles such as suits and dresses, new and old trends alike have found their age throughout the year. With summer came the return of trends such as the high waisted skirt, cut off jean shorts, and lacey tank tops; while winter brought back peacoats, leggings, and oversized sweaters for both the male and female genders. To recap this year's most memorable and stylish fashion trends, INSPIRER is here to refresh your memory!
When the cold weather from winter of 2009 was over, 2010's greatest fashion trends began in the warmer months of spring and summer. Shorts, high waisted skirts, and rompers came back into style with full force; being a majority of what one would see when wandering around the city. Floral patters began to increase in popularity, as well as the first hint in the lace trend that appeared all throughout the year. Ankle boots, or "booties", were also extremely popular along with the infamous TOMS shoes that are a great wear along with giving to an awesome cause to help others. Fedora's were the most popular hat
trend during these seasons, with feather hair clips and earrings being the most seen accessories in these warm seasons. Another popular trend came about with the across the shoulder bag, which provided a very simple and hassle free way to carry basic necessities around at all times without the pain of a big heavy purse. The biggest trend, however, happened to be simplicity in style. Rather than focusing on drastic patterns and wild colors, summer came full equipped with basic tank tops and high waisted shorts in order to create a fashionable style in an effortless manner.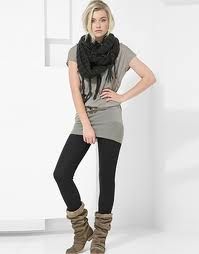 As warmth came to an end and the temperature began to drop, a whole new door was opened in the fashion industry. Packing away all the short shorts and flip flops, women all over the world were given an opportunity to refresh their look in a way that was both warm and fashion friendly. Leggings, not to mention jeggings, were seen worn with virtually everything possible whether it was crop tops or sweaters, two other very popular styles. The "boyfriend" items, such as jeans and button up shirts, grew in popularity in order to provide a comfortable way to go about everyday activities in colder weather. When jeggings weren't worn, skinny jeans were the go-to pant choice this year because of the countless opportunities available when it came to
shoes to pair, along with the unthinkable amount of comfort they allowed. Cardigans came into style, being thrown on top of a pair of high waisted pants or a high waisted skirt in order to keep old fashion in style without being cold all day. Lace saw its glory days and leopard print began its run, seen on everything from shoes to faux fur coats in order to add a wild side to any ordinary outfit choice. Leather jackets and flannels came back into style for a second consecutive year in order to provide warmth and trendy styles, typically paired with a very fashionable pair of combat boots that have been brought back from the 1980's. As the year comes to an end, sequins are being seen more and more often which is a trend that I expect to continue throughout this New Year.
Accessories have been bigger than ever within the past year. Necklaces with simple charms such as watches or birds have been worn and layered in order to provide as much accessory as possible to complete an outfit. Big-jeweled rings have been seen year round, along with the feather accessories that have become oh so popular. Scarves have also been a popular trend throughout the winter season, especially when paired with a simple pair of fingerless gloves. Oversized beanies were popular throughout summer and fall, falling back in popularity very recently. When it comes to the fashion of 2010 for women, I have been very glad to see a majority of these trends come to life.
Males have also had a huge turn around when it comes to the world of fashion, taking turns for the better in every season of 2010. With warmer seasons, the retro cut off jean shorts were very much in style, especially when paired with a simple tank top or short-sleeved button up tee. This was a very popular style during most occasions, especially when the outfit was completed with a pair of TOMS shoes or boat shoes. As spring came on and the weather got a tad cooler, oversized beanies came into style. Beanies were worn in a fashionable way to top off a stylish outfit, along with providing easy warmness when it was necessary. Graphic tees and flip-flops, the more casual style, were brought back into fashion during the warm seasons as well.
Winter and fall seasons were the times when male fashion really took a turn for the better. Going along with a fashion that was also popular in females this year, males all over the country could be seen wearing peacoats around during the coldest days of the year. Scarves were often paired with these comfy coats and skinny jeans tucked into simple boots or shoes were very common in order to provide ultimate warmth in every way possible. Leather jackets were the most common worn jacket by the men this season and were seen as especially fashionable when tied together with a sweet pair of black combat boots. Bringing back styles from the winter seasons of 2009, flannels and sweaters were worn on the days in which the weather seemed to warm up just a little bit. Zip up jackets were seen paired with leather jackets and flannels to provide a stylish layered look when strolling down the streets in colder weather. When it came to accessories, males prevailed by wearing scarves, beanies, and furry trapper hats. When it comes to style, men know just how to provide fashionable combinations for a winter wonderland.
Overall, the fashion trends that have made a break-through this past year have all been ones that I hope to see carry on throughout 2011. From the summer trends of cut off jeans and high waisted skirts, to winter styles such as peacoats and combat boots, 2010 has made a huge impact on the fashion industry. 2011 has huge potential to be very strong in the world of fashion. I am excited to see what is to come.