WINTER FASHION IN SUNNY CALIFORNIA
When thinking about fashion trends during the winter seasons, California is not the first state that would come up. However, due to the decrease in temperatures during this season over the past couple of years, California is now in the running when it comes to top trends. This year, simple styles have become more popular and have been spiced up with simple accessories such as feather earrings or a nice colorful scarf. Basic colors are used most often, usually with a brightly colored accessory to make the outfit not only stand out but also come together in a whole new way. Here are some of the latest trends that have become popular in northern California.
Look One:
Leggings are very in this season, especially ones likethese made by American Apparel which come in all sorts of colors and patterns. Topped with a loose tee like this one along with another recently popular trend, the naval influenced vest/jacket, this is a simple look that can be seen worn to any type of activity. Finish the look off with a simple patterned scarf like this oneand a cute pair of short black heeled boots, and you're ready to take on the city.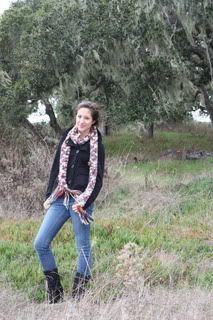 Look Two:
Bringing back a popular trend from last winter, the peacoat can be seen worn by men and women of all ages. With this look, a simple black peacoat like this one from Forever 21 is paired with a simple pair ofskinny jeans. Making the outfit pop with a multi-colored scarf and finishing with tall black boots, a simple look is transformed from a basic colored ensemble into a fashionable outfit with a nice kick to it.
Look Three:
Sweater dresses paired with tights are another trend that can be seen throughout California, whether or not it is particularly cold. A dress like this paired with a stylish belt and a solid pair of black tights is a simple look that can be worn virtually anywhere, whether it be a casual or dressed up event. For colder temperatures, try adding a patterned peacoat to add a fashionable finishing touch to the outfit while staying warmer at the same time. Finish off the outfit with a pair of boots or flats and you're ready to start your day.
Look Four:
For warmer days, nothing but a light jacket is necessary to set up an outfit that fits with the fashion trends. A simple, but cute, dress such as this onepaired with a light jacket provides a stylish look without feeling too warm or too cool. For colder weather, try the same look paired with a pair of black tights and tall boots. Otherwise, a pair of cute flats will do.
Look Five:
Sweaters have become very popular in recent months, which is a style that I am particularly thrilled to see hit the streets. For this look, I paired a simple white sweater like this one from American Apparel, with a pair of plain black leggings that can be found very cheap at target. Pairing two more trends that I am glad to see in style, combat boots and colored socks, the simple look is complete. One last touch withfeather earrings gives this outfit a creative look that everybody will love. This is an excellent, but warm, look that is appropriate for casual events or days lounging around your house.
Click here to view more pictures from the photo shoot.