ALBUM REVIEW: JON MCLAUGHLIN'S PROMISING PROMISES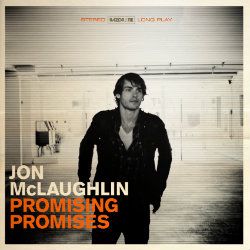 Not to be confused with John McLaughlin, Jon McLaughlin is a promising pop rock artist from Indiana. Promising Promises is his third full studio album. He has been spotted on tour opening up for acts like Kelly Clarkson and Sara Bareilles. Along with writing and performing music, he also made an appearance playing a song for the Disney movie Enchanted, which led to a famous performance at the 80th Academy Awards. Jon McLaughlin has accomplished plenty of things at his young age of 29, and I strongly believe that he will continue to do so with his immense talent.
The album starts off with the title track, "Promising Promises." Right from the beginning it is obvious that McLaughlin's vocals are impressively strong. His music, however, is not as impressive. It seems like a very typical mainstream pop rock song, but if that is what he is aiming for, then he hit it right on. The main question that pops into my head is that although his mix of piano and guitar is nice, what sets him apart from Gavin DeGraw or Train? The next track, "You Never Know," is also not lyrically appealing, but portrays his gentle crooning in a John Mayer kind of way. The brilliant mix of piano and vocals keeps the track interesting to listen to. The following song, "Summer is Over," features the lovely Sara Bareilles. McLaughlin and Bareilles' voices sound great together. Interestingly enough, McLaughlin's vocals are much more empowering than the more widely known Bareilles'. Overall, it is a charming single.
"The Atmosphere" screams 'romantic comedy background music.' His vocals mixed with a variety of instruments sound quite admirable. I fell in love with McLaughlin's vocals listening to this song. "What I Want" carries on the piano theme with vibrant piano and a unique, exciting beat. It is one of the more fast-paced tracks on the album. The next song, "I'll Follow You," starts off with a beautiful piano intro, completely contradicting the previous song. The slow, alluring beat gives off an emotional feel to this song. It is slightly boring, but it shows off McLaughlin's touching, emotional side. "Maybe It's Over" (feat. Xenia Martinez) reminds me of a Jack's Mannequin song with its constant piano and talented vocals. Xenia Martinez compliments McLaughlin's vocals very well, and in my opinion, compliments better than Sara Bareilles. It is another slow song, but is beautifully written.
"If Only I" gives off nostalgic feelings with its steady, gentle guitar. It is a simple love song that reminds me of long summer nights. The next song, "Falling," has a catchy chorus that simply makes you feel good. McLaughlin may not be the most original sounding artist, but he definitely has a talented voice and piano skills. "Without You Now" also has a catchy chorus that deserves to be on mainstream radio. This song especially exemplifies McLaughlin's slightly rough voice with a little incorporation of country twang.
McLaughlin's vocal range is showed off in "My Girl Tonight." It is a slow, mesmerizing song with the perfect combination of McLaughlin's vocals and piano. The random country theme carries on in "These Crazy Times." McLaughlin allows his Midwestern roots shine through in this fun song. Promising Promises, the mellow pop rock album, closes out with a gentle lullaby, "Wool Over Eyes." It once again exemplifies Jon McLaughlin's lovely vocals.
I highly recommend this album if you are looking for a fresh face in the pop rock world. Jon McLaughlin has extremely talented vocals that deserve a listen from each and every one of you.
Rating: 4/5
Key Tracks: "What I Want" "Maybe It's Over"