MAYDAY PARADE'S VALDOSTA EP - ALBUM REVIEW
Mayday Parade is a band with an incredible track record and a unique sound that has teens and adults all over the world listening to their music on a daily basis. Being another five piece boy band from Florida, Mayday Parade appears to be a band similar to what is common in the music scene today. However, they bring a whole different sound to the table that most bands would never bother with. Using synthesizer, piano, and other percussion instruments to mix into each track, Mayday Parade has created a style of their own that fans have grown to love. Since the release of their last full length album Anywhere But Here in 2009, Mayday Parade has released their latest EP titled Valdosta today for the world to hear. Featuring two new tracks along with acoustic versions of previous popular songs, Mayday Parade is sure to get fans excited for the release of their new full length that is set to be released this summer.
The EP begins with a new track titled "Amber Lynn", beginning with beautiful and strong vocals from lead singer Derek Sanders. Acoustic guitars follow shortly along with a unique sound that gives Mayday Parade a totally new sound. By beginning this EP with this new track, Mayday Parade shows fans that they can conquer any musical genre that is thrown their way. Violin pieces are also brought into play, further signifying their thrive to continue to produce music that will keep fans on their toes. This is extremely successful in their case as they bring out different instruments and vocal pieces that send chills down the spines of all who listen. With an acoustic version of "Jamie All Over" that was previously released on A Lesson in Romantics in 2007, Mayday Parade has produced acoustic version of a track that fans have grown to love immensely over the past four years. Taking a new turn by bringing in acoustic guitars and background vocals from Jake Bundrick, Mayday Parade plays on the original version by pointing out the lyrical meaning of the track once again. The best part about each track on this EP is that the lyrics are the most important part and they chose tracks that are not only popular, but ones that fans can also find themselves relating to more than ever. With powerful vocals from Sanders throughout the track, this version of "Jamie All Over" is truly touching. Group vocals also come into play in this track, bringing in yet another new sound for fans of Mayday Parade to hear. Track three of the EP is an acoustic version of one of the most popular songs Mayday Parade has ever released, previously found on their album Anywhere but Here, titled "Kids in Love". Originally being a dance along song that was jam packed with positive vibes and an enormous amount of energy, the turn that Mayday Parade took with this acoustic version will have fans speechless. Rather than focusing on the instrumental pieces in the track, Mayday Parade put the focus on the lyrics that flow from Sanders voice in order to make it more relatable for fans. Combining sounds of acoustic guitars and a piano, "Kids in Love" is a unique track that wins the hearts of fans over without a doubt. This version, in my opinion, is much stronger than the original version that was released back in 2009.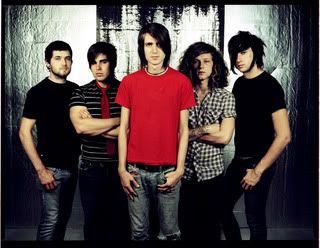 Part two of the EP begins with another acoustic version of a much older track titled "Your Song" which was featured on their first EP Tales Told by Dead Friends in 2006. The new acoustic version includes piano and the hypnotizing vocals that Sanders possesses that never seem to fail fans. Rather than basing this acoustic version with guitars that are commonly used, "Your Song" includes soley piano to give it a feeling that fans all over the world will be crying over. This track is truly magical and has a sound that is very different than the usual sound that Mayday Parade produces. Three tracks in, it is clearly obvious that Mayday Parade has taken a sentimental turn with their music in order to help fans feel a true connection to them and the music that they produce. The track concludes and flows directly into an acoustic version of "Bruised and Scarred", which was featured on their album Anywhere But Here. For fans of the previous album, this is a version that truly gives the song a new meaning. Starting off with a light violin sound that is soon accompanied by an acoustic guitar, Mayday Parade does an excellent job with an acoustic version of a song that many fans have grown to love. This version will win over the hearts of fans both new and old, especially due to the vulnerability that can be heard through Sander's voice. "Terrible Things" is the second new track on the album, beginning straight with a beautiful piano melody that send chills down your spine. Being a song that is slower than the usual Mayday Parade sound, the vocals of Sanders make it clearly obvious that the band as a whole can pull of any genre that is presented before them. With a more sentimental and heart wrenching sound that flows perfectly with the lyrics that Sanders sings, it is clearly obvious that Mayday Parade is going for a new sound with this EP. With the success of this new track, fans are expected to hear this type of sound throughout the rest of the tracks. The track picks up pace and introduces electric guitar sounds by Alex Garcia and Brooks Betts along with bass guitar by Jeremy Lenzo and drums by Bundrick in order to pull their usual sound back into the mix with this perfect combination. Concluding the EP strongly with an unreleased track shows just how much Mayday Parade has to offer. Not only can they produce music that makes you get on your feet to dance and sing along to, but they can also produce music that creates an escape in acoustic songs that are sentimental and make one feel a much stronger to the band as a whole. Mayday Parade's Valdosta EP is an extremely successful release for the band that fans all over the world will love upon first listen.