I SEE STAR'S THE END OF THE WORLD PARTY - ALBUM REVIEW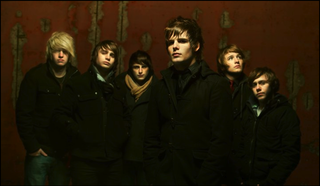 I See Stars, the six piece pop/punk band from Warren, Michigan, released their second full length album today called The End Of The World Party through their Sumerian Records label. They will join bands Black Veil Brides, Destroy Rebuild Until God Shows (D.R.U.G.S.), VersaEmerge, and Conditions on this year's Spring Alternative Press tour, which kicks off in Dallas, Texas next month. Since the release of their first full-length album in April of 2009, I See Stars has been busy touring and recording, along with making a name for themselves in the scene. Pick up their new album oniTunes and make sure to see them on the AP tour when it stops by your city!
The album begins with the title track including a techno feeling introduction that sounds similar to a spacecraft. Immediately following are screaming vocals from Zach Johnson, accompanied by clean vocals by Devin Oliver that are instantly spine chilling. With a catchy chorus that simply makes you want to dance along, I See Stars sets the bar high for the overall sound of this new album. They use the perfect combination
of screaming and clean vocals that one can't help but instantly fall in love with. The second track on the album, Over It begins with guitar riffs by Brent Allen and Jimmy Gregerson, soon followed by Devin's vocals once again. With a more techno/pop feel to the song, I See Stars shows the unique variety that exists within their music. Over It is a song filled with outstanding guitar solos along with powerful lyrical content that is sure to be a fan favorite for many. Track three, Still Not Quite Enough, begins instrumentally as well, but this time with a combination with guitar and drumbeats by Andrew Oliver with bass from Jeff Valentine as well. Vocals begin with positive vibes from the get go, indicating messages that many listeners can relate to due to their feel good lyrics. Taking a pop route with this track, I See Stars has made created a song that is easy to dance and sing along to. With a great transition using guitars, Wonderland is the next track up on this already incredible album. Lyrically, this track is about emotions that are hidden, such as regret, which serves as yet another relatable track for fans. Wonderland concludes with unclean vocals by Zach that go along smoothly with the beats that are being blasted by bass and drums in the background.
Home For The Weekend cuts straight to vocals by Devin, as music behind this progresses as the introduction moves forward. When the introductory vocals conclude, the song becomes filled with drum and guitar beats that are very pop/punk sounding. This is the type of song that has huge potential to be the most popular live track due to its instrumental and lyrical pieces that flow together effortlessly. After this track, I See Stars turns right back into their hardcore sound with It Will Be Up (High School Never Ends). With sounds similar to those of tracks earlier on in the album, I See Stars reminds listeners of their most popular sound. Zach chimes
in about halfway through with his screaming vocals yet again, being perfectly combined with Devin's soothing voice and the sound of the instruments that flow together as well. Once these screaming vocals come to a conclusion, techno vibes chime right back in, creating a unique combination of sounds that works very efficiently for I See Stars. The conclusion of this track transitions straight into Upside Down, which makes a very clean cut flow from track to track. With synthesizer beats as the main instrumental piece of this track, I See Stars shows their uniqueness once again by using an instrument that is not very common in their genre. Upside Down has potential to be a radio hit with its upbeat lyrics and music, along with the variety in sound that it has as well. Upside Down is my favorite track on the record for this reason. Ending the track with more screaming vocals provide a unique transition into the next hardcore/techno track, The Common Hours II. More synthesizers are brought into the mix of the album, combined with a splash of auto tune that surprisingly fits the song very well. This track is very fast paced in comparison with the rest of the album, but is one that will also be a fan favorite from the get go. The Common Hours II is a track that greatly shows the versatility of I See Stars and shows everything that they have to bring to the table.
Screaming transitions into the next track Where I Let You Down (Numb) would make one think that a similar sound can be heard throughout the two tracks, however Where I Let You Down has a much more pop/techno feel to it. With this being said, it is another track that holds positive lyrical meaning along with providing outstanding beats to dance along to. This is a very upbeat track that I think will be the most popular track on the album, especially with those who have been fans of I See Stars prior to this album. Glow begins with some of the strongest guitar pieces on the album as a whole, especially when combined with the drums, bass, synthesizers, and vocals that soon follow. Glow is a track that makes you want to get up and jump around to, which will make it very popular during a live performance. The chorus of this track is extremely uplifting and catchy enough to sing along to even with the first time hearing the track. Light screaming vocals make an appearance in this track, however they go along well with the rest of the track. The final track on the album,Pop Rock and Roll, starts next. Musical melodies and vocals fit along well with the title of the track, showing one last genre to the ears of listeners. With sounds similar to the previous track, I See Stars shows that they have potential to be a band to fit any genre you are looking for. Pop Rock and Roll is a well written trac