RUNNER RUNNER - ALBUM REVIEW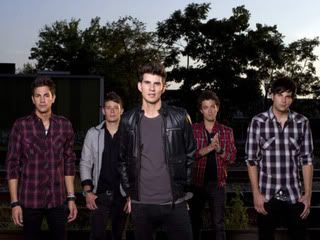 Runner Runner released their first full-length self-titled album today on iTunes since the release of their first EP in 2008. Since then, Runner Runner has been busy touring with bands such as The Dangerous Summer and The Audition, and will be joining A Rocket To The Moon on their upcoming headlining tour "The On Your Side Tour." With this recently released album, Runner Runner will be a force to be reckoned with in the music scene.
The album kicks off with track So Obvious, which is one of the singles previously released on the record, in a techno-feeling rhythm that instantly plasters a smile on your face. Lyrically, So Obvious indicates the relationship that many listeners will relate to. It depicts the distance that is put in between many relationships, although feelings are still strong. The chorus sings "It's obvious that my hear beats for you", which is a phrase that many teenagers can find themselves relating to immensely. With a constant beat in drums and symbols, Runner Runner sets off their album in a positive and catchy way in order to capture the ears of listeners. Transitioning into track two titled Unstoppable with group vocals singing "We are" repeatedly, Runner Runner is at it again with catchy vibes from the get go. This track relates back to the first track in that it depicts a relationship that is unstoppable, or unbreakable. Vocalist Ryan Ogren shows his ability to sing as he fluctuates from high to low notes with ease, creating a very unique sound. Combining Ryan's vocals with full band group vocals creates a catchy feeling that is sure to get listeners dancing to the first time around. Papercuts is the next track, starting out with a mellower sound of acoustic guitar. Quiet vocals are combined with this guitar for the introduction to the song, leading into a more pop feeling when combined with drums and bass. Lyrically, this is a track about trust issues and the risks that are taken when it comes to relationships. Three tracks into their first full-length album, Runner Runner proves to the world that they have huge potential to be very popular in the near future.
Heart Attack, track four on the album, begins with a robotic feeling that is much different than any other track on the album. Disco/techno beats are thrown into the mix, and it is a mix that works very well for this five-piece boy band. This provides a great opportunity to truly change up the sound of their band as a whole, and they do just that. Heart Attack also steers away lyrically from the introductory tracks, hinting at girls that one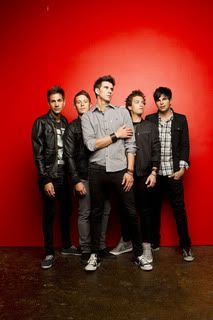 meets on nights and are blown away. Overall, Heart Attack is a brilliant track that shows the versatility that Runner Runner has to offer. Hey Alli is another previously released single that fans have grown to love. It serves as a strong middle point to the album, as well as being a track that many females will find themselves relating to. Every girl wants to be the girl of a man's dreams, and this is exactly what Hey Alli depicts lyrically. With a much mellower feeling than that of the previous track, Runner Runner goes right back into their typical sound in a strong and meaningful track that will win the hearts of a vast majority of fans. Life After You begins with a powerful musical piece that sounds very old school. As soon as Ryan begins singing, these feelings are blown full force into the ears of those listening. Life After You is a strong song with underlying meanings of being unable to live once somebody disappears from your life, and it provides a very impacting piece that sets up the album for a strong second half. The chorus is insanely catchy with lyrics that are yet again ones that many fans will be able to relate to, showing emotions including just being yourself and believing in everything that you can do. With the album now half over, Runner Runner is stronger than ever and has shown exactly how unique and versatile the sounds that they produce are.
The second half of the album kicks right back into the musical sounds that are similar to what the first couple tracks sounded like. However, the way Falling is sung is in a much more powerful manner with verses that sound as though they are nearly talked and a chorus that is sung with a ton of heart. The chorus is powerful lyrically as well, giving those who listen a boost of confidence. It says that "when you think you're falling, just get up" which is advice that many people need to hear nowadays. She's My Kinda Girl relates back to previous track Hey Alli lyrically, but has instrumentals that are unique from the get go. Drums backed up by an electric guitar stand out the most, providing a solid beat for the lyrics to bounce off of. She's My Kinda Girl is yet another track that fans all around can relate to, along with dance to due to ever so catchy beats. Ending the track with a short acoustic guitar melody, She's My Kinda Girl proves to be my favorite track on the album. This acoustic piece flows directly into Dedicate, another laid back track with lyrics that are immensely powerful. The song is about dedicating love and time to an individual, being all one wants to do. It is a very love circulated track that has a very fairy tale feeling to it, which goes along very neatly with the sound of the instruments in the background. Being the ninth track on the album, Runner Runner has proved a name for themselves with their ability to provide unique songs that vary in style, but flow together so smoothly.
Zoning into the final tracks of the album, I Can't Wait continues on the melodies that were introduced inDedicated. When it comes to the more soulful and laid back tracks, this is hands down the best on the record. It truly is a song that you can't help but smile and sing along to, especially because of the unique twist that Ryan puts to his voice. The lyrics are powerful in themselves, with messages entailing true happiness in a relationship that is soon to lead to marriage and commitment, and are even more special due to the voices singing them. I Can't Wait is the most harmonic track on the record, as well as having very strong lyrical
melodies. Piano keys introduce See You Around and are shortly paired with those incredible vocals that have soothed the entire album. This track shows a change in the relationship that was introduced in the beginning tracks, stating that "when I see you around, don't anything." I believe that the album depicts a relationship from start to finish, ending the way that nobody wants it to. Verses with heart wrenching lyrics transition with the beat of drums into a chorus that does just the same, showing a disappointment in the ending of a relationship. Runner Runner is at it again both lyrically and instrumentally providing a very strong impact on the lives of fans all around. Running Away, the concluding track to the album, also seems to be the conclusion to this relationship that has seemed to build over the course of tracks. Running Away begins with the lyrics that entail the fading of a relationship that once consumed much of ones time. It depicts the exact predictions that most would come to, the shattering ending of a relationship. This song takes lyrical meanings that involve the recouping of oneself after the break of a relationship that was once very important. Runner Runner concludes their strong full-length album with strong lyrics and instrument pieces all throughout the album, proving that they are a force to be reckoned with.